GNAT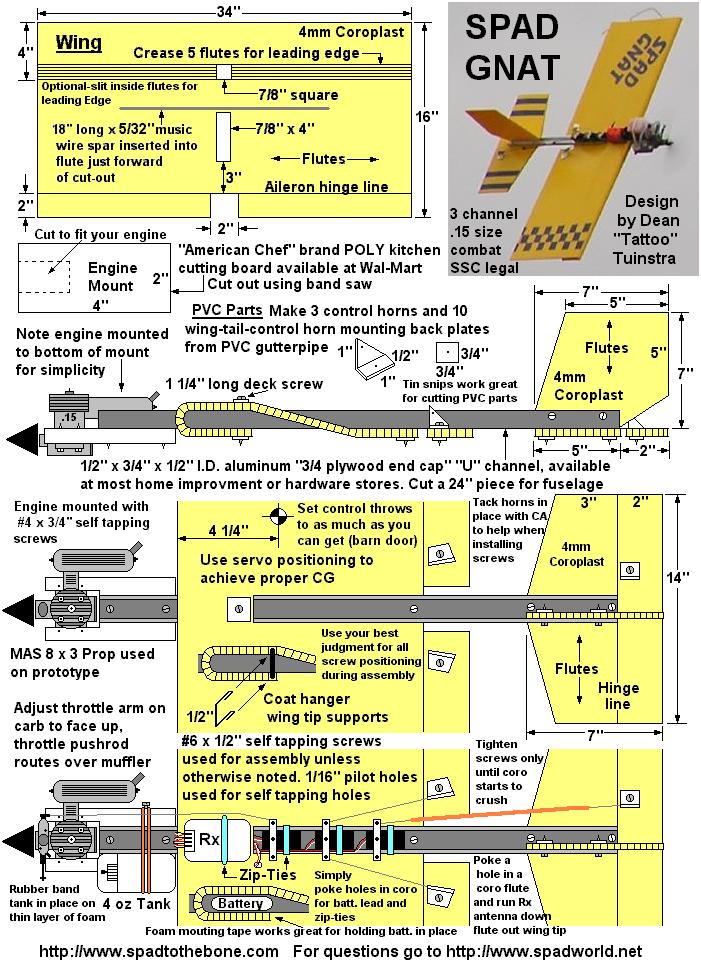 Focke-Wulf Ta152H
New member Petr Bachan from Texas sent along with his plan of the infamous FW Ta 152H. It includes some nice documentation as well. Petr has had lots of requests for this plan, so make sure you add it to your collection as well. Nice work, Petr. The plans are in TIF format, and the docs are in word format.
Mounting your Bat Wing
Member Neil Byrd sent along with a great diagram of how he mounts his bat wings. This is a simple JPG image you can print and use. Check it out. Thanks a ton, Neal. Nice work!
Vampire
Member Gerry Van Dyk, our friend from Canada, sent along his first published set of plans, and they're some excellent work. This one is of the de Havilland Vampire Mk V. Construction is foam and balsa, and it's a proven outstanding flyer! Download your set today and try something a little out of the ordinary. Thanks, Gerry!
P-80
Member Nels Hogberg sent along another one of his fine plans, this time the venerable P-80. Its legal for 2105 or 2610, and is well suited for .25. Look for pics of the finished produce soon! Good work, Nels!
Saturday Night Midget
Collin McGinnis and Dean Tuinstra have sent in yet another one of their highly popular designs… this time its called the "SNM", which stands for Saturday Night Midget, as was designed for open "A" class combat. Click here for a picture, and here for detailed instructions. Thanks again, you guys!
Saturday Night Special
Collin McGinnis and Dean Tuinstra have come up with a super simple version of their famous SPAD design. The SPAD is a popular open combat plane. The plan is offered here as a JPG image, which you can print right from your browser. Click here to read a comprehensive instruction sheet. Thanks, guys! Great work!!
MiG-7
Member Dave West is famous for his all coroplast scale MiG-7 he flew at the Nats. This is an incredibly gorgeous airplane, and has to be seen to be believed. The plans are very, very complete and include full instructions with construction photos. This is a download you don't want to miss. Thanks to Dave for submitted them! Acrobat Reader is need to view the instructions.
Chance Vought V-143
Capt. Pedashenko just sent in his latest. This time its the rare Chance-Vought V-143, a pre WWII design that has some of those Corsair lines. Looks like it would make an outstanding scale combat fighter. Download both sheets of plans here. They are TIF images, so you'll need a graphics viewer to view and/or print them.
Spitfire Mk VIIIOur good friend Alex Pedashenko has just posted some nice plans for the Spitfire Mark VIII, originally designed for Speed 400 electric – but Alex has added a suitable scale bar so that the drawings could be scaled to 1/12th scale. It looks to be a fairly simple design, with excellent scale lines. Have a look, and thanks Alex!

Puuska PM-III
Jukka Takamaa has finally submitted his rendition of the infamous Puuska PM-III. This is a quite sleek looking fighter with some interesting lines, just as promised! It looks to be an ideal fighter. Check out this excellent plan!
CA-15 Kangaroo
Here is our resident designer Tom Carr's latest creation, a very nice plan of the CA-15 Kangaroo, in his usual GIF format. Tom notes that while only one Kangaroo ever existed, he hopes to fill the skies with this elegant warbird. Tom has included some nice documentation, too!

Sukhoi-6/7
Here is Tom Carr's latest, the Su-6 or Su-7. Looks to be another great project! It can be built as an inline or radial version. Tom also included a documentation file which can be downloaded here. Tom said, "I hope everyone enjoys this plan as much as I did putting it together". Thanks, Tom!

Stormovik IL-2
Tom Carr has just sent in a great GIF file of his rendering of the Stormovik IL-2. It has a 45.5″ wingspan and should fly nicely with a .20 or .25. Tom even did his homework and included some very nice documentation in Word format, which can be downloaded here. Tom, keep up the great work! ps: Tom wanted to add that the shear webs should be 1/16″ sheet, which was not printed on the plans.!

Hawker Hurricane
Tom Carr recently sent in these nice Hurricane plans in a GIF file. Tom notes: "The concept is 3/16″ ply firewall (F3), 1/8×1/4 stringers, thin ply for all other fuse formers, and 3/32″ fuse sheeting. Though not identified on the plans, ( I'll have to add in the near future), the fuse could use some top and bottom stringers, especially in the aft section and the cowl area.  The tail is set for stick building to lower aft weight, this baby's got a long moment-arm to the rear feathers. The wing is laid out for 3/32″ ribs, 1/8×1/4 spars, 3/16 TE doubler, 5/16×1.25 TE and 1/4×1/2 LE. Wing sheeting would be well served at 1/16, LE to spars, 1″ wide TE sheeting with full sheeting from W3 to W3. The computer is telling me about 5/16" washout from W3 to W6 will make it a kitten to land (low-speed stability) yet won't hamper the "get off my 6 maneuvers". We hope to have a DXF file posted soon. Tom also included a nice parts list. Thanks, Tom!
P-39
Straight from Sweden, these are the famous Martin Elmberg P-39 plans. A simple yet elegant design, that guarantees to build up to a great fighter. The ZIP files contains the plans, instructions and everything but balsa! Download it and have a look!
Spitfire
Here's the much anticipated Spitfire plans, sent from Martin. These are great for beginners and expert alike. Download 'em today! These also include the plans and instructions.
Bf 109K
Martin also recently developed some plans for the famous Bf109k. Like the others, these also include plans and instructions.